Full Moon
As I write, it is Thursday 10th November, night of the full moon. Every moon of the year is given a name which varies around the world from culture to culture. This one is known as 'The Mourning Moon', 'The Snow Moon', 'The Fog Moon' and by some as 'The Deer Moon'. At this time of year the deer are fattened and about to start the rut, the breeding season. This makes it the ideal time to hunt for them. (See this article for more in-depth information on how the moon affects deer http://www.deer-library.com/artman/publish/article_32.shtml .)
The Elusive Deer
Now I have known for some time that over the last few years, deer have moved in to my neighbourhood. Family members and friends have seen them locally; my daughter even came face to face with a stag whilst out walking our dog. A local count has revealed that there are at least seven does and one stag breeding in the area. It's all very exciting and I've been longing to see one. Yesterday morning, the day before the full Deer Moon, I had my first encounter.
A Close Encounter Captured
It was before 8 o'clock in the morning. My husband was drinking his morning coffee when he shouted 'What's THAT?' eyes fixed on a distant point out of the window. He was agog. My husband is never agog. I rushed over to the window to investigate. The white tail bobbing about, much too high and too big to be a rabbit was unmistakeable. I was elated! As my husband dashed off to work, I dashed off into the garden with my camera. When you couldn't see the tail, the camouflage was excellent, especially when she had her head down. Now I realise why it's taken so long for me to see one.
Spot the deer?
For a moment I thought she'd dashed off in the time it took me to rush outside. But then she lifted her head and I spotted her again.
Caught on camera
She stood in this aspect for a long time, perfectly still.
Statuesque
I raised my arm to see if she'd notice. She did.
Looking straight at me
She fixed her gaze on me for quite a while. It was a great moment for me. If I was American I'd say that I felt truly blessed. It's something I'll never forget.
At this point I should apologise for the poor picture quality. My camera was set to zoom right in as she was quite a distance away. The shot below includes part of the shed at the bottom of our garden so you can get an idea of the scale of things.
Beyond the garden shed
By this time she was bored of me or at least felt reasonably safe that I wasn't a threat. Once she had turned to look at me I didn't dare move a muscle for fear I should frighten her away. She went back to whatever she was looking at and again stayed in this position for quite some time. Eventually she turned tail.
Moving on
She sauntered over to the boundary fence, headed towards the farm.
Against the fence
She hopped over the barbed wire.
Jumping
Made a quick check of her surroundings....
Investigating
Took a pee in the horse field....
Relief
Had a sniff about...
Checking scent
Moved on a few paces...
Moving on
And quickly bounded off across the field into the distance.
Off, off and away!
I don't mind telling you it was bloomin' marvellous!
This Deer Moon
There are still a couple of weeks left to go before the next new moon. This one, that marks the end of the old Pagan year and the beginning of the the new, has been a great one for me. An auspicious time for new beginnings, I launched my business around the time of the first quarter. And so far, although I've been at the very bottom of a very steep learning curve, it has been a thrilling time. Not everything has gone perfectly to plan; I was hoping to have my website up and running by now; but it's going very well and I'm excited for the future.
Deer Hunting Around The Web
Deer seem to be popping up everywhere I look lately. Here are some of my favourite deer-inspired products from around the web: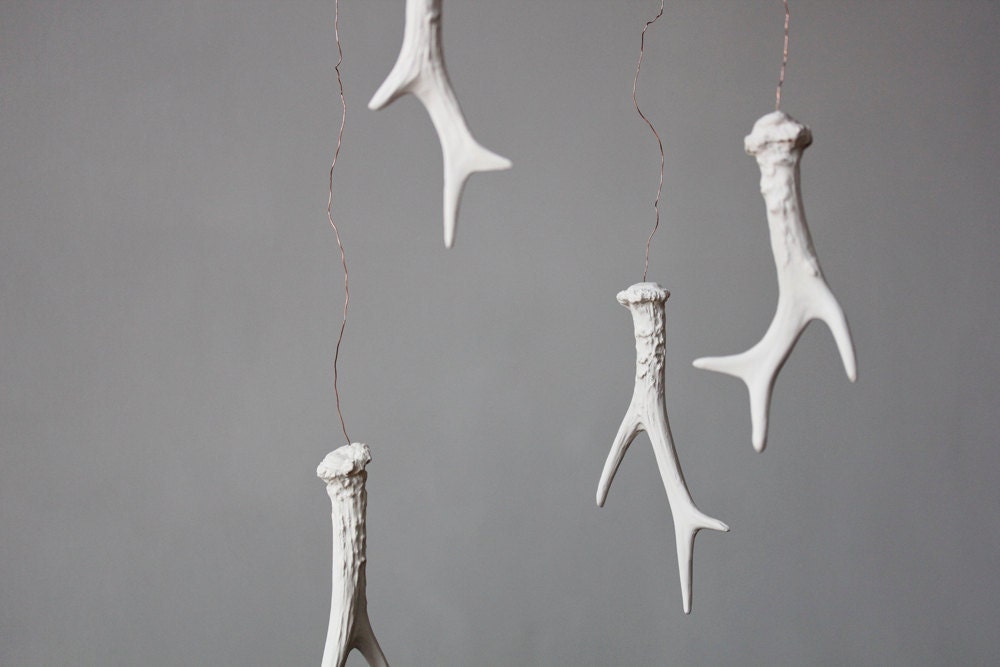 Clay Antler Mobile Inspired by the Black Forest
Antler 12-Light Chandelier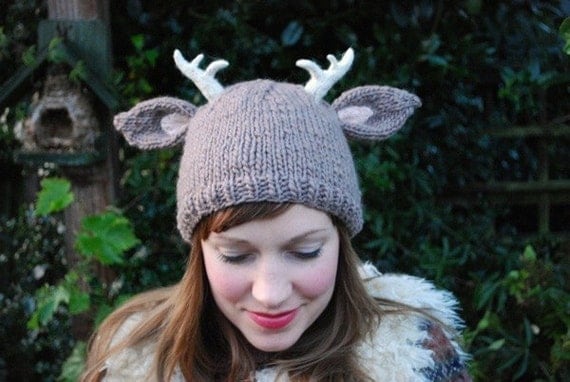 Deer With Little Antlers Hat Knitting Pattern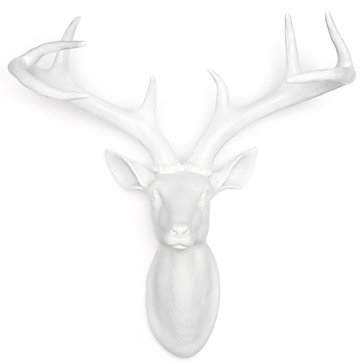 The Deer Moon deer has made me feel enthused about my reindeer Christmas/Yule cards. I really enjoyed making these and now feel spurred on to create a full set of them. For now they're available as part of a mixed set.
OKIFOLKI Dual Purpose Christmas/Yule Cards
And I'd love to make some more deer-inspired crafts in honour of the Deer Moon deer that paid me a visit.
Please comment below and if you'd like to see a deer-related tutorial some time soon, do tell me about it.